Founder Mario Longhitano first skied and discovered the Dolomites in 1982. Even back then, the concept of one lift pass covering many ski areas existed and Mario went about exploring the vast Sella Ronda region of the Dolomites.
Dolomites Ski Tours was founded in 1985 and has been taking people skiing in the Italian Dolomites mountains ever since.
Mario and his team of regular resort hosts and group leaders have now many years of experience in skiing the Dolomites. Amongst the group leaders are Anthony, "Rocket" Rodney, Phil, Dave, Helen and Martin.
From the moment you arrive in Campitello they will look after you. They know the best ski runs, mountain restaurants and importantly know how things work in Italian mountains. Their experience and knowledge goes beyond the mountains to also encompass Italian, culture, language and history.
They will take all the stress out of decision making…. which run next, which lift next, where to stop for lunch, how long is it going to take to get back etc. All you will have to do with our experienced team is enjoy the skiing and scenery.
From left to right (below): Mario, Martin, Helen, Rocket, Anthony, Phil, Dave, Glenn, Graham, Brian, Diana, Greg, Karl, Martina & Sally.
When Mario is skiing in Australia he likes to go to Thredbo. He stays at Leatherbarrel Ski Lodge please click here.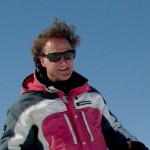 Peter Wells was a much-loved guide for Dolomites Ski Tours for many years. Sadly, Pete passed away in July 2015 and he will be sorely missed by the Dolomites Ski Tours family. Please read Mario's tribute to Peter here.